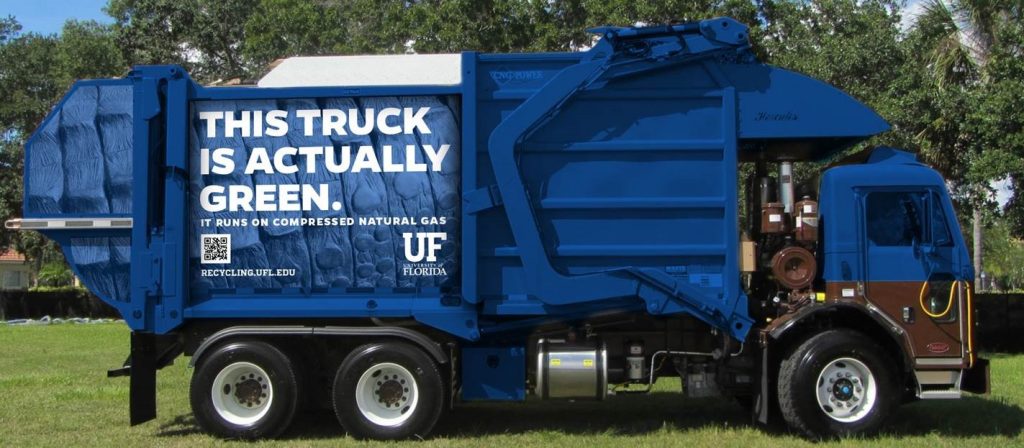 Supporting Sustainable Waste Management and Zero Landfill Waste
The Facilities Services Recycling and Solid Waste Management Office manages the collection and disposal of all solid waste from University of Florida operations. We continually work toward better ways to reduce, reuse and recycle campus waste through sustainable practices. Our goal: Divert 90% of UF waste from landfills.
Recycling at UF
Test your knowledge of UF recycling!
Recycle Right!
There are two things students, faculty, staff and campus visitors can do to help UF reach our 90% waste reduction goal:
Recycle the right way!   Not all communities recycle the same way and a recycling symbol on an item does not mean it can be recycled locally. Many towns have one cart for recycling and one for trash. UF, Gainesville and Alachua County use a "dual stream" recycling system.
Blue bin (Bottles & Cans)
Plastic bottles & jars (including yogurt cups and margarine tubs)
Metal cans, including aerosol cans (empty first please!)
Glass bottles & jars
Beverage cartons (milk, juice, soup, wine, etc.)
Orange bin (Paper & Cardboard)
Brown paper bags & newspapers
Magazines, catalogs & telephone books
Corrugated cardboard
Pasteboard (cereal boxes, cracker boxes, etc)
Office paper & junk mail
Paperback books, workbooks and soft-back textbooks.
DO NOT include items that are not on the list – even if it has a recycling arrow.
Who To Call
Recycling: UF Facilities Services Recycling and Solid Waste Management – (352) 392-7396
Electronics and Furniture: UF Surplus/Asset Management – (352) 392-2556
Biomedical Waste: UF EH&S – (352) 392-1591
Chemical or Hazardous Waste: UF EH&S – (352) 392-8400
These Departments Have Separate Recycling Programs
University Athletics Association (Contact Bill Smith, UAA Facilities Director, at (352) 375-4683)
UF Health (Contact Dr. Lauren Clair Berkow at lberkow@anest.ufl.edu)
UF Student Housing (Contact your Residence Life Staff)