Construction and Demolition
Construction and Demolition
Construction and Demolition Waste
UF personnel can bring debris from construction, demolition and remodeling projects (and certain maintenance projects) on the UF campus to the Facilities Services Recycling Yard (see directions below). To increase UF's recycling rate and decrease our costs, please sort all debris into their proper container.
Masonry
A concrete-walled pit is located next to the Brush and Woody Waste Area for "masonry" including bricks and concrete. A ramp in the recycling yard (made itself from recycled asphalt!) provides easy unloading to bins for a number of bulky materials.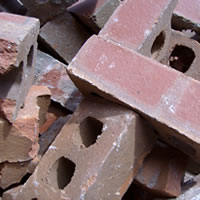 Raw Wood
Unfinished, raw wood can be put into the bin labeled "Raw Wood", along with unusable pallets. Please no painted, or glued wood in this bin (plywood and particle board, etc.). Painted and glued wood go into the "C&D" bin instead.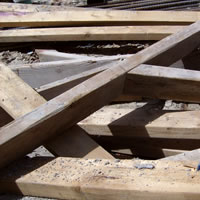 Metal
Any items containing 50% or more metal components should be separated to the "Metal" container. (For example, most UF office chairs have a metal frame covered by fabric and plastic. These chairs go into the Metal bin.)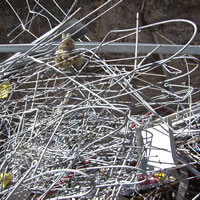 C&D Composite
A roll-off container labeled "C&D" is for inert materials that may be diverted to a Construction and Demolition landfill. This bin can therefore be used for dry wall, ceiling tiles, floor tiles, HVAC filters, ceramics, pipes and plumbing fixtures. Please also put painted, or glued wood into this bin as above.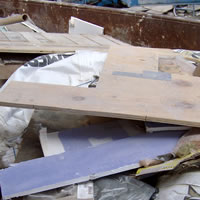 Contact Us
For more information, please contact the Recycling and Solid Waste Department at (352) 392-7396 or recycling-waste-management-staff@facilitiesservices.ufl.edu.
Location of Recycling Yard
The recycling yard is located behind the Facilities Services compound, near the corner of Elmore Drive and Magnolia Drive, just north of UF Surplus.