Carpeting Recycling
UF partners with Interface Flor to recycle all carpet that is removed from campus buildings. According to Interface, about 5 billion pounds of carpet ends in U.S. landfills each year. Carpet is bulky to handle at waste disposal facilities and takes a long time to decompose in landfills, yet is completely recyclable! Through their patented process, Interface recycles many types of carpet by separating nylon from carpet backing, with 100% of the material going to making new carpet.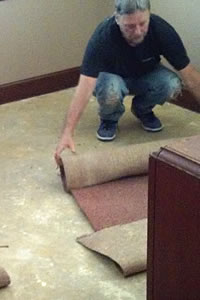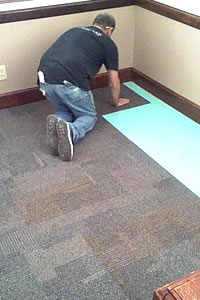 Please help UF achieve zero landfill waste by doing your part! If your building is replacing carpet, instruct your vendor to take all carpet to the Carpet Recycling Trailer located at the edge of the Facilities Services Recycling Yard (download pdf of recycling yard map). Please stack carpet as closely as possible to the front wall of the Carpet Recycling Trailer (as far as possible from the doors) and also as high as possible, so the trailer can be shipped sustainably, full. All recycled carpet must be dry, mold and mildew free, and:
Should be rolled (at a minimum of 4 feet and a maximum of 9 feet wide)
Tile should be palletized, secured to the pallet
Padding is acceptable (roll separately, please, from the carpeting itself)
Scraps and non-carpet debris cannot be recycled at this time and should be put into landfill trash collection instead
Carpet Recycling Trailer
Look for the semi-tractor trailer parked alongside Elmore Drive, next to the Facilities Services Recycling Yard (download pdf of recycling yard map).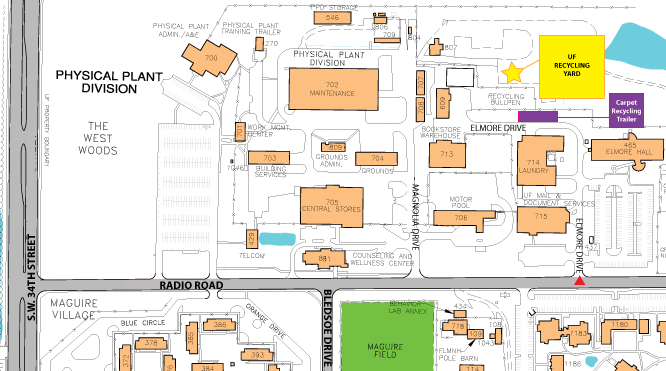 More information
For further information or Recycling Team help, please contact the Recycling and Solid Waste Department at (352) 392-7396 or recycling-waste-management-staff@facilitiesservices.ufl.edu.