Furniture Recycling
Every year, UF disposes of huge quantities of furniture. Most furniture is picked up by UF Surplus as university assets. UF holds onto furniture as long as possible then makes it available through public auction. Auction furniture is often serviceable, but no longer wanted by a department without being repurposed to another department.
Reduce. Before your office buys any new furniture, explore free-to-campus furnishings at UF Surplus/Asset Management. Furniture is easily transferred to your department through a simple form.
Furniture UF recycles includes:
Desks and Chairs
Bookshelves
File and Display Cabinets
Miscellaneous Furnishings
UF departments can browse warehouses off Elmore Drive inside the Facilities Services complex. Furniture storage is in Building 609 and electronic equipment is available in Building 714.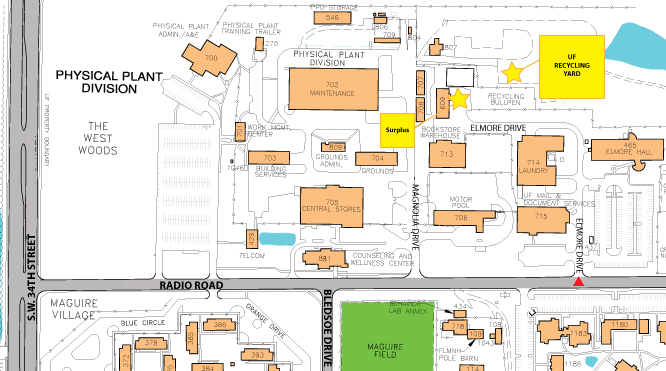 For more information on this program, contact UF Surplus/Asset Management at (352) 392-2556.
Online Swap Meet
There is an active listserv for UF staff and faculty to re-purpose furniture, equipment and office supplies. Items are posted on the listserv before they are sent to surplus:
Ask to join the UF-PROPERTY-SWAP-L listserv (scroll the listserv directory to the Property Swap listserv)
Check your email for a verification note from LISTS.UFL.EDU.Listserv
Open this email and click on the confirmation link
Asset Management sends confirmation that your registration is approved
If you are looking for inexpensive furniture for home use, you can register to bid for it on the public auction site (see above). To register for auctions and review current auction items, visit http://surplus.ufl.edu.
Unusable Furniture
All furniture purchased for UF departments must be returned to UF Surplus/Asset Management. Departments can bring all broken or unusable furniture without UF decals to the Facilities Services Recycling Yard and put items into the proper roll-off containers (signs provide guidance on site).
More information
For further information on Recycling Team help, please contact the Recycling and Solid Waste Department at (352) 392-7396 or recycling-waste-management-staff@facilitiesservices.ufl.edu.