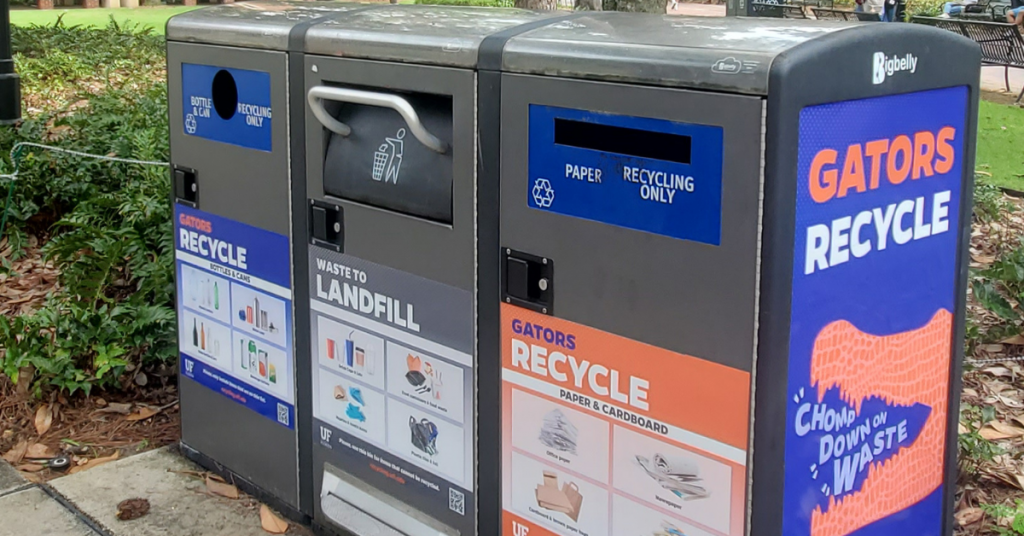 GOAL: Divert 90% of Uf waste from landfills
The Facilities Services Recycling and Solid Waste Management Office manages the collection and disposal of all solid waste from University of Florida operations. We continually work toward better ways to reduce, reuse and recycle campus waste through sustainable practices.
This page is currently under construction and will feature more information in the near future. Check this page again soon! 
Recycling at UF
Recycle Right!
There are two things students, faculty, staff and campus visitors can do to help UF reach our 90% waste reduction goal:
Recycle everything that can be recycled on our campus.
Recycle the right way! Not all communities recycle the same way and a recycling symbol on an item does not always mean it can be recycled locally. UF, Gainesville and Alachua County use a "dual stream" recycling system, meaning paper/carboard products are collected separately from glass/metal/plastic.
Recycling faq
This section is currently under construction and will feature additional FAQs in the near future.
To continue towards our waste reduction goals, we need help from the entire UF community. Recycling is complex and requires an investment of time and effort to maximize the process. Review the FAQs below to assist you in understanding the recycling systems in place at UF and in the greater Gainesville community.