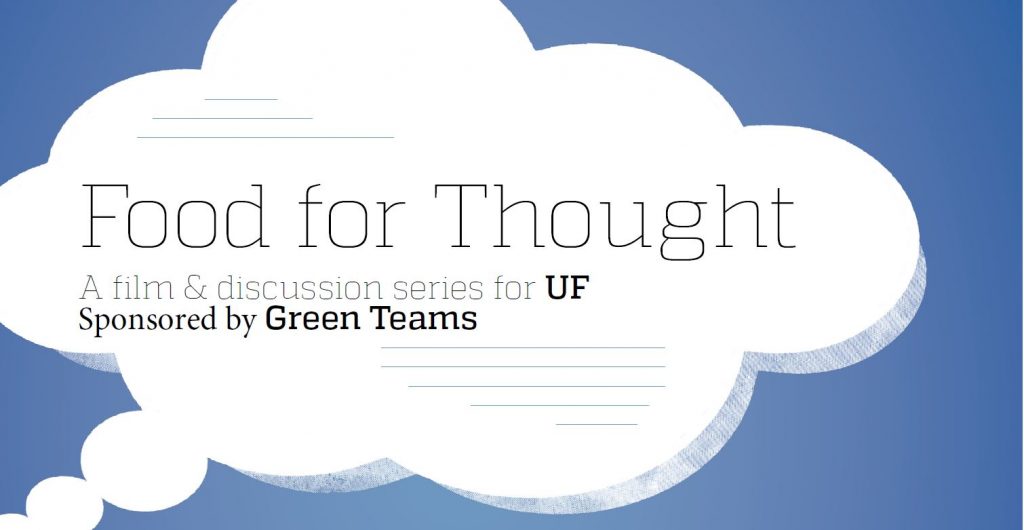 Food for Thought is a pilot film & discussion series around sustainability subjects hosted by various Green Teams across the campus.
Each series contains:
Short films that impress the needs of sustainability on campus
Guest speakers including faculty and other subject experts
Resources, pledges, and other action items to bring to your Green Team, your department, as well as your home
Food for Thought is hosted at the Mathews Suite on the fourth Tuesday of every month and goes until June 26, 2018.  UF Facilities Services Green Team started the pilot project by sponsoring the first three discussion topics. Of which can be found below.
Upcoming Food for thought discussion:
Topic TBD
4-24-2018 @ Reitz Union, Mathews Suite 12-1pm
Past Discussion topics:
Water
3-27-2018 @ Reitz Union, Mathews Suite 12-1pm
Donna Bloomfield, Facilities Services Grounds Superintendant,
Tom Wichman, Facilities Services Assistant Director
Presentation
Resources
VIDEOS

Basic Irrigation System Maintenance – Seal leaks, base breaks, clogged filters . . . all common maintenance problems you encounter with an irrigation system over time. Overwhelming? Not if you know what to look for and how to look for it, easier with the help of a learned friend.
Your Irrigation System: Piece By Piece – Many of us have in-ground, automated irrigation to sustain landscaping and green space, but who knows all the parts that make these systems work? Sometimes circumstances force us to step outside our comfort zone and we learn new things (or the universe lends us a hand). We'll get to know our irrigation system piece by piece.

WEBSITE

Alachua County Irrigation Restrictions – Landscape irrigation can account for 60% of residential water use. Reducing irrigation saves money while leaving more water for our springs and future generations! Click here for our Irrigation Brochure.
Waste
Marie Steinwachs, Facilities Services Waste Diversion Technical Manager,
Amanda Waddle, Zero Waste and Policy Advisor
Presentation
Resources
VIDEOS

 Take 5, Recycling – Where does UF waste and recycling go?

In this brief video, Alachua County Recycling Program Coordinator Jeff Klugh tours the Leveda Brown Environmental Park and Transfer Station to explain how recycling works in Alachua County.

China's "National Sword" – Deep cuts in recycling

Learn how the Chinese government, overseeing the world's largest market for recycled material, will try to implement an import ban on mixed paper, plastics, textiles and other materials that fail to meet rigorous quality standards.

Story of Solutions – Game-changing ideas on building a more sustainable future

In the current "Game of More", we're told to cheer a growing economy – more roads, more malls, more Stuff! – even though our health indicators are worsening, income inequality is growing and polar icecaps are melting. But what if we changed the point of the game? What if the goal of our economy wasn't more, but better? Better health, better jobs and a better chance to survive on the planet. Shouldn't that be what winning is?

POSTER
WEBSITES
E-MAILS

Amanda Waddle (guest speaker) –Amanda can help you find opportunities and information to help Gainesville reach its zero waste goal
City Commissioners – This linked address sends one e-mail all current city commissioners
ANNOUNCEMENTS

Office of Sustainability:
Energy
John Lawson, Facilities Services Energy Manager
Hal Knowles, Change Agent with Program for Resource Efficient Communities
Presentation
Resources
PRESENTATIONS
Watering Efficiently – A Helpful PowerPoint
VIDEOS

Geothermal Energy Options, How They Work – Learn how we may utilize technology for conditioning buildings

Geothermal holds promise to help eliminate or reduce America's dependency on foreign oil and fossil fuel

How Behavior Science Can Lower Your Energy Bill

What's a proven way to lower your energy costs? Would you believe: learning what your neighbor pays. Alex Laskey shows how a quirk of human behavior can make us all better, wiser energy users, with lower bills to prove it

WEBSITES
special thanks to: